I was working on the Cthulhu set, but I got distracted by the idea of doing some stuff with Jill, so I recreated her, it's basically the same but with some minor changes, I also added some props to fill the scenario, including a table to do... stuff.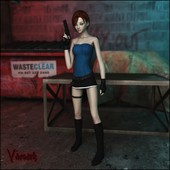 Has it ever appeared a zombie horse in the RE series? I can't remember... not that it really matters ;)
Any ideas for some zombified partners for Jill?