Although several girls volunteered, only two were selected, these young and beautiful girls were expecting to do a service for the community, to help the less fortunate of society... they could never really imagine what kind of "service" they were about to perform, after being separated from the unselected candidates they were led by a secretary to a separated office in the social services center.
secretary: "The volunteers coordinator will be with you in a moment, please be patient."
She closed the door behind her. leaving the two girls alone.
*the girls looked at each other*
The room was completely silent, but it looked like if the walls were screaming: "say something!"
...
Ashley looked up shyly at the other girl, noting her size and the air of confidence she seemed to exude. Ashley felt a little intimidated by the deep stare the girl was giving her.
"Hi" she said nervously, " I'm Ashley."
...
...
...
Ashley went over to sit on the corner of the desk, determinedly keeping her gaze off Kallie's legs. She didn't want Kallie to catch her staring in case she thought it was weird. Ashley raised her hand to push the hair off her face meeting Kallie's eyes as she spoke. "Yeah I know what you mean, I used to do some work in a retirement home but I don't think we'll be doing anything like that. Whatever it is I hope they don't keep us waiting too long."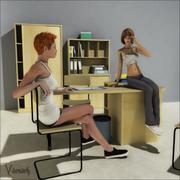 ...
...
Kallie raised her hands
instinctively but Pin fell on her with his whole body, despite his average size he was extremely heavy, Kallie lost her balance and fell backwards with him on top, as she fell to the ground she felt something sliding on her belly lifting her tank-top.

It was Pin's penis, even flaccid it was really long and quite thick, one could easily imagine that it would be even bigger that his own arm when erect. For a moment their faces nearly touch, Pin pushed himself back a little and said "oh-oh I'm sorry, I... I tripped, I didn't do it on purpose I swear, I'm sorry...are you ok?"
Ashley watched as Pin started to get up from the mattress, as she realized he was starting to fall she tried to reach forward to catch him but couldn't reach him in time. She stepped backed stunned, unable to move, as Pin landed on Kallie, his entire nude body pressing her down into the floor.
An eternity seemed to pass to Ashley as she gazed down, wide-eyed and mouth open, at the two bodies below her. She couldn't imagine what it would be like to be in Kallie's position, with this filthy, naked hobo lying on top of her. She felt a small jump in her stomach that she couldn't quite explain.
Finally, Pin spoke and his words seemed to wake Ashley, as if from a trance. She hurried over and knelt down. Taking hold of Pin's arm, she tried to help lift Pin's not inconsiderable weight from off of her new friend.
Time slowed for a second as Pin lost his balance and fell on top of Kallie. Acting out of instinct, with a large naked hobo falling over her, she tried to scramble back. She wasn't fast enough however and was quickly buried under the mountain of Pin. She was strong, but not strong enough to move him, and part of her was a little afraid to provoke him.
"I'm....fine...just.." Kallie stammered out in response to his question. She didn't know how to respond, part of her wanted to beat the hell out of him, the other was staggered by the meatpole laying across her stomach. Her anger was distracted when she absent mindedly tried to remember when she'd had a cock that massive. Her perspective on Pin was permanently changed, and even as Ashley tried to help him up, she had a hard time taking her eyes off his dick.
...
Pin tried to look at Kallie's eyes when she responded but her eyes were staring at his cock. Ashley knelt down by his side to help him to get up. Pin laid a hand on her hip and as they got up he got closer to Ashley's face.
Staring at her eyes he said "thank you" and for a fraction of a second his eyes glowed in red. Ashley felt a tingle on the back of her head and for a few moments a flash went through her mind, like a dream, she saw herself on her knees passionately sucking Pin's cock.
When the illusion faded and Ashley regained control of her mind she saw that Pin was standing in front of her, just like before the flash... But she wasn't holding his arm, her left hand was holding Pin's cock and her right hand was on her unzipped Jeans.
"whoa! You didn't looked like this type of girl, but that's ok with me if that is what you want" said Pin and, before she could react, he slipped his hand behind her, grabbing her butt.
Kallie could only watch, she didn't saw the glowing eyes, but she could see how Ashley grabbed Pin's cock and started to unzip her jeans.
Ashley was a little overwhelmed; with Pin's finger stroking and pushing on her anus, her left hand still massaging the tip of Pin's cock, her right hand fondling his testicles, and now her mouth gently sucking on and rolling her tongue around his nipple. She couldn't understand how she had gotten into this position. There was still a battle going on in her mind. The rational part was telling her to stop this and run from the basement. However, her more animal part was demanding that she continue and push this even further. At the moment, the animal in her was winning.
During this, Ashley had completely forgotten about Kallie. All of a sudden, she remembered that her friend was still on the floor. She felt a rush of embarrassment and removed her face from Pin's chest to look down at the girl. It felt strange to be doing this with Pin as Kallie just sat and watched. Somehow it just wasn't right. Keeping her right hand on Pin's balls, Ashley extended her left hand, coated in pre-cum, towards Kallie to help her up off the floor.
Kallie let Ashley help Pin up with a sigh of relief. She was mostly just confused at this point. And sure that the hobo had done it on purpose. As she sat up though she found herself treated to a strange sight. In that short time Ashley's hands had found Pin's cock.
"Whoah Ashley! What...what..?" The smaller woman didn't just stop at holding that dick. She began massaging it and his balls, as the hobo eagerly groped at her ass. Kallie swallowed hard and shook her head. "Ash! Ash what the hell!" No way this was happening. Why was she suddenly acting like a sex-slave? Kallie didn't get what was happening, but she couldn't ignore how hot she was getting watching. Ash was already sexy, but now she was working away at this homeless mans package like it was Christmas.
"Ash you...you need to stop!" Kallie started to get up, as hot as her core was getting watching the foreplay, she wasn't going to just let it go. Something was wrong with Ashley and Pin was the only one to blame. When Ash held out her sticky hand Kallie pushed it away, but not before noticing the sheer quantity of cream on her hands.
"Hey Pin! Whatever you are doing you can knock it off!" Kallie stepped up to the hobo, and looked him dead in the eyes. It was really hard to get that far, with his now throbbing erection standing up between them, and her companion passionately stroking it. "Seriously....I'm warning you!"
...
Despite Kallie's muscles and aggressive tone Pin didn't appeared to be afraid at all, actually, he seemed amused by it, he leaned a bit forward staring at her eyes. "I'm doing nothing, she is the one that started it and... you know what? I think that you are just jealous, she did what she wanted while you just stared at my cock" He paused and leaned forward, closer to Kallie's eyes "I think that you want it as much as she does" the last words echoed on Kallie's head. Pin's eyes glowed with a red light.
She felt a tingle on the back of her head and a image flashed through her mind: she was on top of Pin sucking his cock while he licked her.
The image only lasted for a second but when it faded away she felt something on her mouth and, as her vision cleared, she saw that she was gently licking Ashley's fingers covered with pre-cum, not only that but she was also stroking Pin's cock right next to her face.
"HA! I knew it, isn't it better when you are honest with yourself" Pin asked looking down at Kallie. "Don't you want to suck it?" he said as he pressed his cock against her face.
...
Ashley hadn't even noticed Kallie's protestations while she was on the ground but once she stood up and confronted Pin, she gained Ashley's full attention. As she watched Kallie's defiance it seemed, for a moment, that Ashley might come to her senses. She could feel the fog starting to clear from her mind and the voice in her head dimmed.
However, when Kallie sunk to her knees and grasped Pin's cock, Ashley's lust returned. And when Kallie took hold of Ashley's wrist and began to lick her fingers, all other thoughts subsided.
Ashley watched as Kallie licked the pre-cum from her fingers. She began to slide her index and middle fingers in and out of Kallie's mouth. Slowly, all the way in to the base of her fingers and then back out until just the tips rested on Kallie's lips. The feel of Kallie's tongue swirling around Ashley's fingers excited her.
When Pin asked Kallie if she wanted to suck his cock, Ashley didn't give her any choice in the matter. She removed her fingers from Kallie's mouth and used her hand to rotate Kallie's head and gently pushed her forward until the head of Pin's cock entered her open mouth. Then she simply rested her hand on the back of Kallies head.
Ashley decided to take this opportunity to remove her jeans, which were restricting her movements. She kicked them down her legs and stepped out of them, her socks and shoes coming off with them. She was now naked except for her small top. Ashley opened her legs a little wider to give Pin better access to her ass.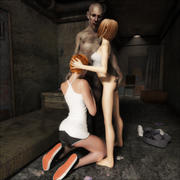 It did not take long for Pin to take advantage of this. He suddenly thrust his finger forward and Ashley felt it pop into her ass up to the first knuckle. This caused Ashley's back to arch and her mouth and eyes shot open. Pin seized the opportunity and brought his mouth down to hers to kiss her.
At first, Ashley didn't kiss him back, but as he roughly explored her mouth with his tongue she began to get into it, wrestling his tongue with hers. She may have been new to this, but it seemed as though Pin's tongue was unnaturally long and flexible.
He pulled away from her leaving his tongue stretched out to it's fullest length and she was shocked to see it protruded several inches from his mouth. Ashley closed her lips around the outstretched tongue and began to suck on it in earnest.
Her right hand reached up to wrap around the back of Pin's head and she pulled him down harder into her. Her left hand, still wet with Kallie's saliva, moved down between her legs and Ashley began to stroke her now soaking pussy.
All this while, Pin had been pushing his finger in and out of Ashley's ass, getting slightly further with each thrust until finally, the entire length of his finger was inside her. She could fell the whole length of it and the tip, scraping her inner walls. It felt strange, slightly painful, but she didn't want it to stop.
...
"N...no way..." Kallie stammered in protest as Pin made his accusations. It didn't weaken his case that she kept glancing down at his member. Then he leaned in, holding her gaze with his strangely hypnotic eyes. One moment she was standing there in front of him, a picture of defiance. The next moment she saw herself naked, laying on top of Pin as he worked her slit with his tongue. She was sucking him off with gusto, then it was over and she was kneeling down, sucking on Ashley's fingers.
She couldn't grasp why, and part of her didn't want to. The taste of Pins fluids was surprisingly good. Only a little bitter, but very salty. She tried to think as she passionately removed every trace of his pre-cum from her companion's hand, looking at her the whole time. It was only then that she noticed her hand was stroking Pin's cock too, right in front of her face.
"Fuck...." It only took Ashley's small prodding to get her lips around that dick, and once she had it inside her mouth, she lost it. Giving head had always been her favorite sexual endeavor. She loved it so much to watch a guy squirm under her skilled ministrations that she got real pleasure from sucking them off. Pin had the rewarding experience of having Kallie now without inhibitions.
She sucked at the tip very hard, drawing excess pre-cum onto her tongue where she swirled it around. She bobbed a few times over his shaft, pressing him to the back of her throat before pulling away to lick him clean. She moaned as she serviced the hobo, her body no longer in control and desperately horny. One free hand began massaging his balls, while the other moved between her thighs and started grinding away at her pussy. This went on for a minute or so, before she looked up at pin, smiling around his cock. With a wink she shoved him all the way down her throat, until her nose was pressed up to his skin.
She'd trained out her gag-reflex a long time ago, so she could deepthroat like a champ. Kallie groaned and slipped her hand beneath her shorts, so she could slide a few fingers inside, where they began probing furiously. At the same time her head began to slide up and down his cock. She would vary how deep she went and how far she pulled back, trying to push the pleasure she was giving Pin to the max. Eventually she pulled away and took a deep breath, which was exhaled into a moan. Kallie took the moment to watch Ashley and Pin, really liking the nude version of her partner.
"I'm...I'm going to borrow this okay?" Kallie said with a smile as she grabbed Ashley's hand and pulled her down to the ground. This caused Pins finger to pop awkwardly out of her ass. Kallie didn't give her a chance to complain though, and pulled her close, pressing their lips together in a very sticky, passionate kiss.
"Fuck I've been wanting to do that so bad...now...help me out with this?" She smiled, sticking out her tongue and nodding towards Pins cock. She guided Ashley's face to it and returned the earlier favor by pressing it into her mouth. Once her friend started sucking, Kallie went to work on Pin's balls, firmly stroking his cock and holding his gaze as they worked him over. This time though her free hand slid around Ash's waist, and down to her wet slit, where she began kneading away at her labia, pinching her clit.
...
...
Pin's throbbing cock slided between the girls mouths for a while, his breathing accelerated as he was getting close to the climax, he stopped moving and placed his hands behind the girl's heads "Wait a moment... I... need a minute or I'll..." the girls looked at him, but their tongues continued moving.
Ashley's head was very close to Kallie's ass, she gave one cheek a playful lick and then pushed her gently towards Pin before sitting back on her heels to watch.
"Oh fuck!" She exclaimed as he penetrated her the first few inches. He was thick and she could feel him throb inside her as she slid further and further down. After what felt like forever her ass touched down on his lap and she adjusted herself into the reverse cowgirl. "Nnngh...ok...lets see what you've got!" With that she began bouncing her hips up and down, varying the pace from fast and shallow to slow and deep, moaning out every time his thick tip kissed the entrance to her womb.