As the title says, there are going to be some changes here. I feel like I'm focusing too much in quantity of the updates and new stuff... for now on I'll focus on quality.
Also, I think that it's time to get to the next level and try some real animation. I'm still very new to this but, I think I can handle it :3
I didn't finished the succubus set, heres what I've done so far: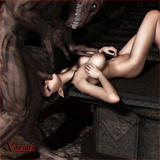 I don't plan finishing it.
Stay tuned, There's going to be a update soon.